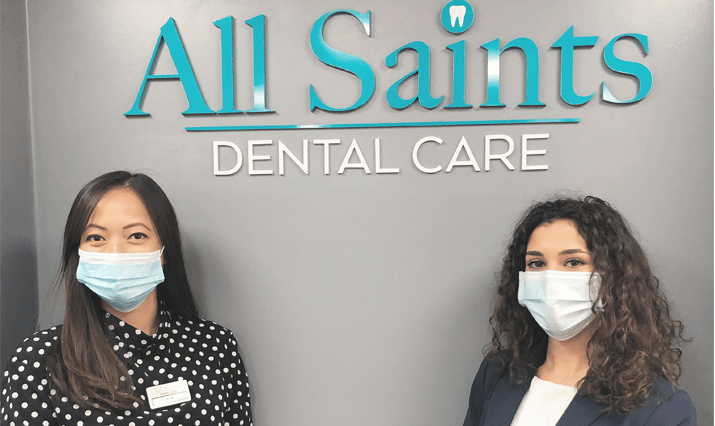 All Saints Dental Care, near London's famous Canary Wharf, has been providing dedicated dental care to patients for over 30 years.
Our practice, which sits opposite All Saints Church on East India Dock Road, has been recently renovated and offers a welcoming and spacious environment for all our patients.
We offer a warm welcome to a large cross-section of patients who represent all age groups from the local community and neighbouring areas.
Our ground and first-floor state-of-the-art surgeries are equipped with four relaxing and comfortable chairs where our clients can select a film or TV entertainment of their choice. The practice has a dedicated decontamination room to support the need for the highest standards of hygiene and safety. We also have a separate dedicated digital imaging room equipped with a state of the art panoramic X-ray which is able to take images of the full mouth and surrounding structure.
Our dental team's skills and experience will help to  accommodate all your dental needs, from an initial check-up to the more advanced levels of modern dentistry. At the core of our work is our knowledge, training and expertise supported by the latest advances in technology and equipment.
All Saints Dental Care is proud of its friendly, caring and highly-trained team. Preventative dentistry is central to our work. We are passionate about working in partnership with our patients at all times and our goal is providing the quality of care they expect and deserve. This is central to all we do at All Saints Dental Care.
An environment where patients feel safe, secure and cared for is part of the ethos of the practice. Team members pride themselves in developing a patient relationship based on trust, respect and a determination to deliver consistently high-quality care.
The team is led by Principal Dentists Dr Joshi and Dr Kapil.
They share a mutual goal with their dental team. They understand the importance of listening to the needs of patients and informing them of the range of treatment options to help them decide what course is right for them. The team is united in providing a patient journey which is straightforward and seamless in a supportive and caring environment.
All Saints Dental Care offers a full range of cosmetic dental treatments including the award-winning Boutique Whitening home-based system and Invisalign®, which provides the latest technological advances in adult orthodontics and teeth straightening.
We can offer a vast range of expertise to provide a wealth of options for replacing missing teeth. These include dental implants and implant-retained dentures.
A full range of facial aesthetics is also available.
All Saints Dental Care offers evening and weekend appointments and emergency appointments are available during normal working hours. The practice is located just minutes from the All Saints Docklands Light Railway station and bus stops.
Meet our team or browse our treatments.
We help you get exceptional smiles as we make the world better by supporting the following charities: